Satu berita baik yang julung-julung kalinya diadakan khas kepada kaki pancing Brunei Darussalam bulan depan iaitu Ogos pertandingan memancing FISHCOMP 2007 akan diadakan di Pantai Serasa untuk mempromosi sukan memancing dinegara kita dan pelancongan dinegara kita.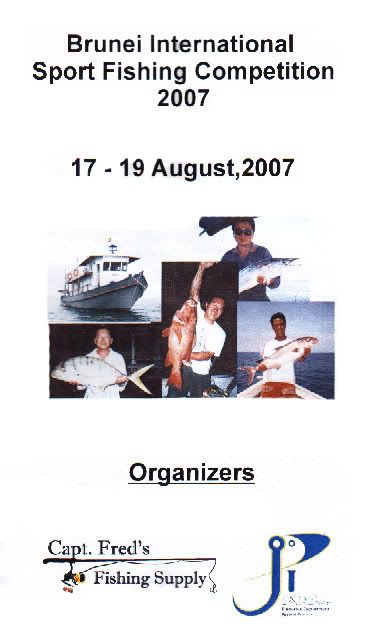 All introduction:

This event is organized by Capt Fred's Fishing Supplies and Brunei Fisheries Department with intention of promoting sport-fishing and tourism in Brunei Darussalam.

Briefing and registration:
This will be conducted at the Serasa Seaport Complex as scheduled.

Weighing in and Display of catches:
Fish entered into competition will be weight-in at the Serasa Seaport Complex. The fish will be displayed to the public.

Indemnity Form:
All participants are required to sign an indemnity released form and acknowledge that they are aware of the inherent risk and are participating on their own free will.

Insurance:
All participants are required to purchase their own personal accident insurance.

Sport Fishing Licences:
All participants are automatically licenced with sport fishing license from Brunei Fisheries Department for the duration of the competition.

Health:
All participants must ensure that they are physically and medically fit to participant in this fishing competition.

Entry form:
All entry forms must include 1 photocopy of identification card (IC) or passport.

Fishing Boundaries:
All participants are permitted to fish at any locations within Brunei Territorial waters outside restricted zones. The restricted zones are area 500m within Oil and Gas Rigs, Drilling Platforms and other Oil related structures.

IMPORTANT:

1. All offshore category participants must have good quality life jacket or they will not be allow to take part in this competition.

2. Do not throw any biodegradable rubbish(plastic bags, fishing lines, etc) into the sea. Any participant found littering will be disqualified.